My front door has seen better days!  It's time to paint the front door for a fresh and inviting look.  While it's still the middle of summer and I can't tackle this project until cooler days arrive, at least I can search for that new favourite paint colour. The current brown coloured paint is a few years old and looks weathered and drab.  There are so many colours to choose from, how can I decide?  Do I go traditional with a red or black door?  Or do I do something different like yellow, light blue or purple?  Here are 6 front door colours that have caught my eye.  What do you think?
Traditional Door Paint Colours
This is Wrought Iron by Benjamin Moore.  It's a neutral but it's bold and really creates an impressive style for your front door.
Personally, I love the formal look of a black door.  It looks beautiful and stylish regardless of brick or siding colour.
A red door colour is another traditional choice that really adds drama to the front of your home.  Adding some black accessories would be beautiful.  I love the greenery to complete the look of this entrance.
Trendy Door Paint Colours
This turquoise color is Whythe Blue from Benjamin Moore.  It almost feels like a neutral and could easily work with many different brick colours.  It's definitely one that I'm considering to use!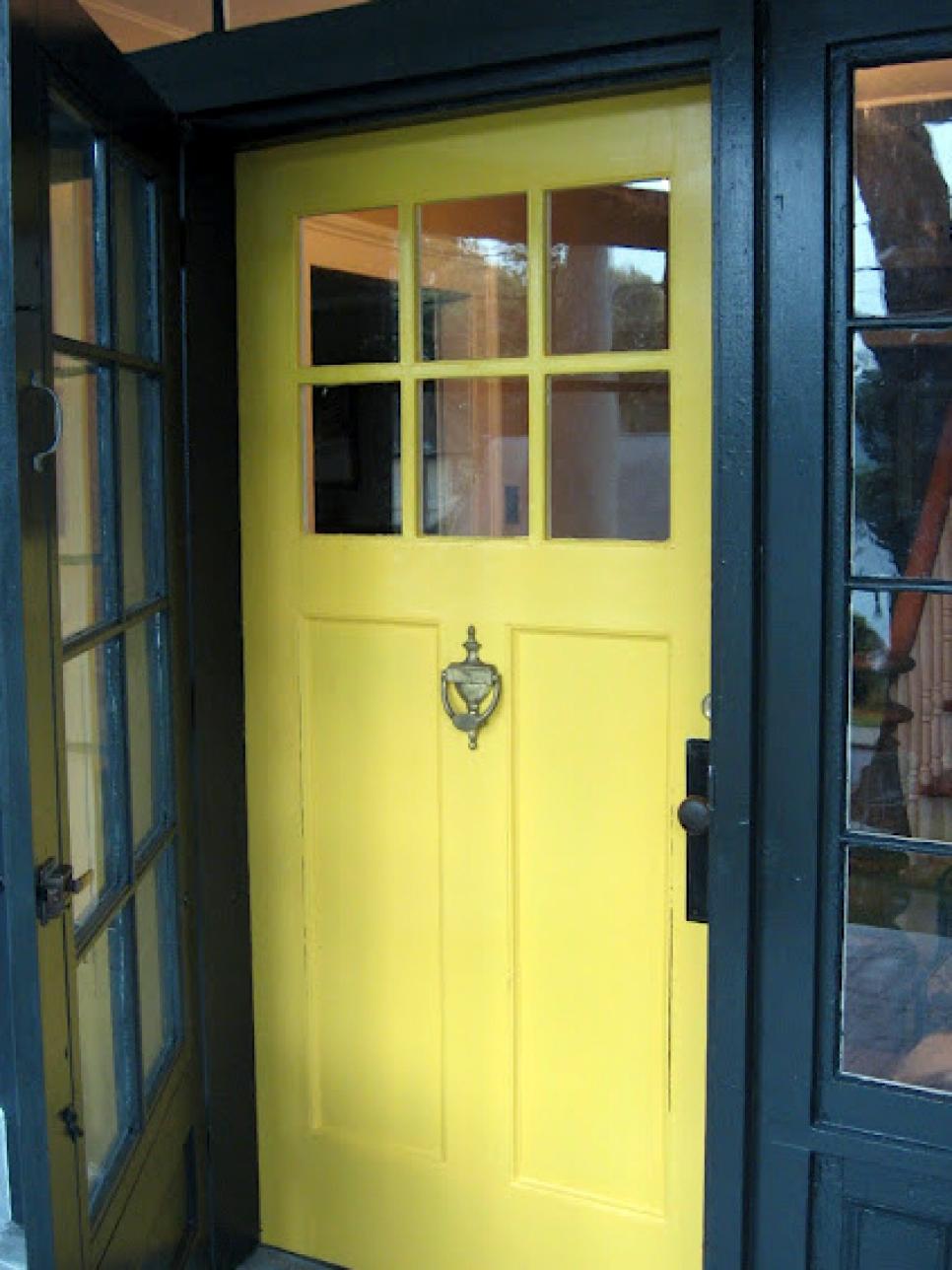 While it's quite bright, this Imperial Yellow from Benjamin Moore will definitely make your home stand apart from your neighbours.  It really feels fresh and inviting!
I'm really excited by this pale gray color.  It's beautiful and fresh!  It's not bold but somehow it stands out beautifully.
How To Paint A Door
So…these are my 6 front door paint colour choices so far.  I still have a few weeks before the weather cools down here in Ontario and I get really serious about painting the door.  Once I do begin, I will be using tips from the Thrifty Decor Chick  about how to paint the door correctly.
I can't wait to share with you my updated front door look!
What colour is your front door?  Do you prefer a traditional look or something more unpredictable?
If you would like some more home decor ideas then read these posts:
7 Dining Room Decorating Must Do's
How To Make A DIY Purse Hanger
If you enjoyed reading  this post, please share with your friends!