My dining room is an on-going work in progress.  It's situated in the front part of my house and everyone walks past it so I really want the room to look it's best.  Yet at the same time, I really want to be budget conscious as I work on decorating this space.  I need to keep in mind that while it is situated in a prominent location in the house, in reality, it's a space that is not often used so I don't want to spend a lot on decorating it. So where better to go to find inspiration?  Yes…Pinterest!  As I've been pinning away, finding my favourite dining room looks, I realized that there are 7 tips that need to be followed when decorating a stylish dining room for your home.
Know Your Style
What mood do you want to create in your dining room?  Do you want it to be energetic and dramatic or calming and cozy?  Once you decide on this you'll then want to consider the style of your space.  When looking at inspiration pictures, do you gravitate to modern styles, traditional, country or mixed?  Personally, I love an eclectic mix with a combination of vintage pieces matched with modern accents.
Textures
The furniture pieces for a dining room are often large and take a lot of space.  Usually you have a dining table, a hutch or sideboard.  To soften this look you'll need to consider adding texture in different ways.  Think about adding a large carpet to soften the space.  Here are some tips about picking the right size carpet for your table.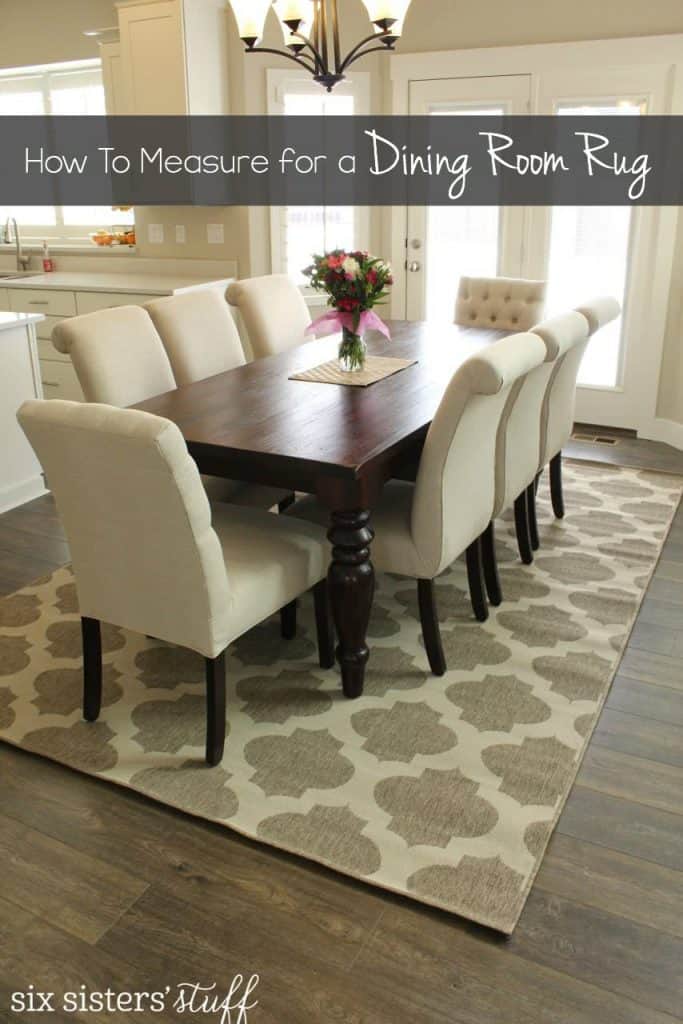 Then you'll want to add some drapes to soften the look of your room.  You can also add a table runner and even different woven, natural textures like baskets on the table, floor or even as a wall display.  These elements allow you to not only soften the look of the dining room, but gets you to infuse your personality by adding colour and pattern. I like to draw colour ideas from my carpet or a piece of art.
Storage
A dining room definitely needs to have some storage options to hold all of your collections of dinnerware, cutlery, vases, etc.  Try not to match all of your furniture.  Instead find different pieces for storage that will add uniqueness to your room.
 Take a look at Lynzy and Co blog post where she shares some ideas about how to style a hutch.
Lighting
Good lighting is essential to any dining room.  This is a great way to add drama to your look.  The main fixture or chandelier is often the finishing touch. However, don't forget to consider additional lighting options besides a chandelier.  You may want to add wall sconces, table or floor lamps, pot lights and of course let's not forget candles!  Don't forget to add dimmers to create great ambiance for when you're entertaining.  Here are some beautiful chandelier examples that will definitely add drama to any dining room space.
Better Homes and Gardens
Adding Drama
Now once you have thought about the basic functional pieces for your dining room, you'll then need to consider how you can add drama to your space.  How will you make your personality shine throughout this space?  The wall colour is an easy and affordable way to add instant drama to your room.  Adding wallpaper or molding can definitely make your space stand out and nowadays can also be done very affordably.  I have a great DIY for less than $100 to improve your baseboards with simple molding options that I'll share in the future.  Try to think about the walls in your dining room as an opportunity to show off your style and personality.  You can add drama by adding art, accessories like a large mirror or collection of plates or baskets.  Be creative and don't be afraid to try something unexpected!
Seating
To create a high end look for your dining room avoid purchasing chairs as part of the dining room set.  Your table and chairs don't have to match.  When picking out chairs, think about the scale and style as they relate to the dining room table.  Here are some tips when selecting dining chairs.
I love adding a different style of chair to go with the table as a way to add some more personality to the space. You can add wooden chairs with upholstered chairs or even try to add a bench on one side of the table for an unexpected dramatic touch.
Piece De Resistance 
My final tip is to add a "piece de resistance" to your space that will really make your room stand out.  I love the idea of having one exceptional or unique piece in the room that becomes the central or conversational piece.  Perhaps it's the table or an awesome piece of art?  It can be the light fixture.  What will be the surprise in your room?  Maybe it's a one-of-a-kind DIY project or a special family heirloom piece that you treasure?  Make sure to choose something that reflects you and your personality and avoid picking something just because you think others will like it.
I love Amber's idea of using one of your favourite photos and having it blown up extra large to be your one-of-a kind original piece of art for your dining room.
Nowadays we're so free to try new things with our style when decorating our dining rooms. It's a special room where you create special moments and memories with your family and friends.  It should be room where your guests feel welcome and just want to hang around in.  Dining rooms can definitely be spaces of grandeur but really you don't have to break the bank anymore to create a stylish room.  I found my dining room table and hutch on Kijijji for only $300.  This allows me to spend a few more dollars in other areas that will help me to add drama and interest to my space.  I hope to share more photos of my dining room soon.
What do you love about your dining room?  What is your "piece de resistance"?  I would love to hear about how you have created your stylish dining room.